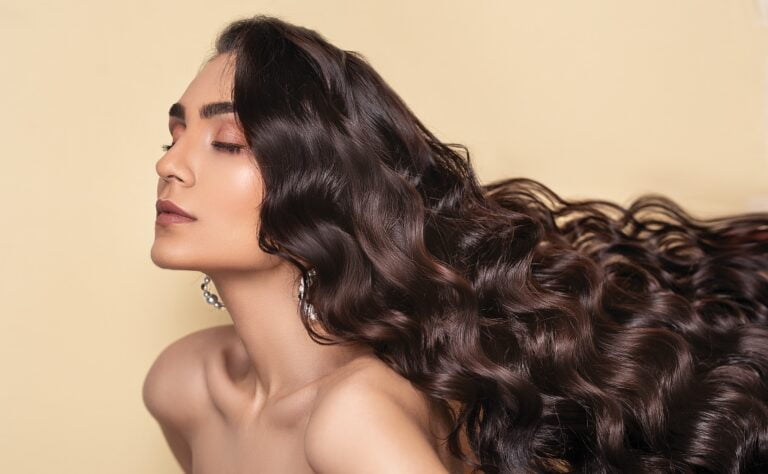 Scalp Care for Women Over 40: A Guide to Healthy Hair
Did you know your scalp ages six times faster than your face!? That's why in this post we are sharing all the tips in this post to the ultimate guide to a healthy scalp care routine and an effective dandruff treatment if you have a dry scalp.
Research shows that the scalp ages 12 times more quickly than the skin on the body and six times faster than facial skin. As we age, our hair goes through several changes, and so does our scalp.
Your aging scalp can bring several challenges, such as dryness, itchiness, and thinning (or if you are like me a more oily scalp now in midlife.)
I used to be able to wash my hair twice a week (maybe even once) and it would look perfect. Now not so much.
I tend to get a really oily scalp and have to wash at least 2x a week at minimum. But that is why I wanted to take a deep dive into how to make my scalp age better.
And many people have a dry scalp and suffer from dandruff, which is why every scalp is different and should be treated differently.
But whatever you have, dry or oily scalp, it's so important to have a good scalp care routine. Because one thing I have learned over the years is that good strong beautiful hair comes from a healthy scalp.
And now that I have a consistent routine in place, my scalp is looking and feeling much better!
Understanding Scalp Health
So what affects scalp health? The scalp is an often-neglected part of our body, yet it plays an essential role in maintaining healthy hair.
The scalp is the foundation for hair growth, so it's important to keep it healthy to ensure that your hair is as healthy as possible. Read more to learn about your scalp and the best dandruff treatment. There are many factors that can affect scalp health, such as: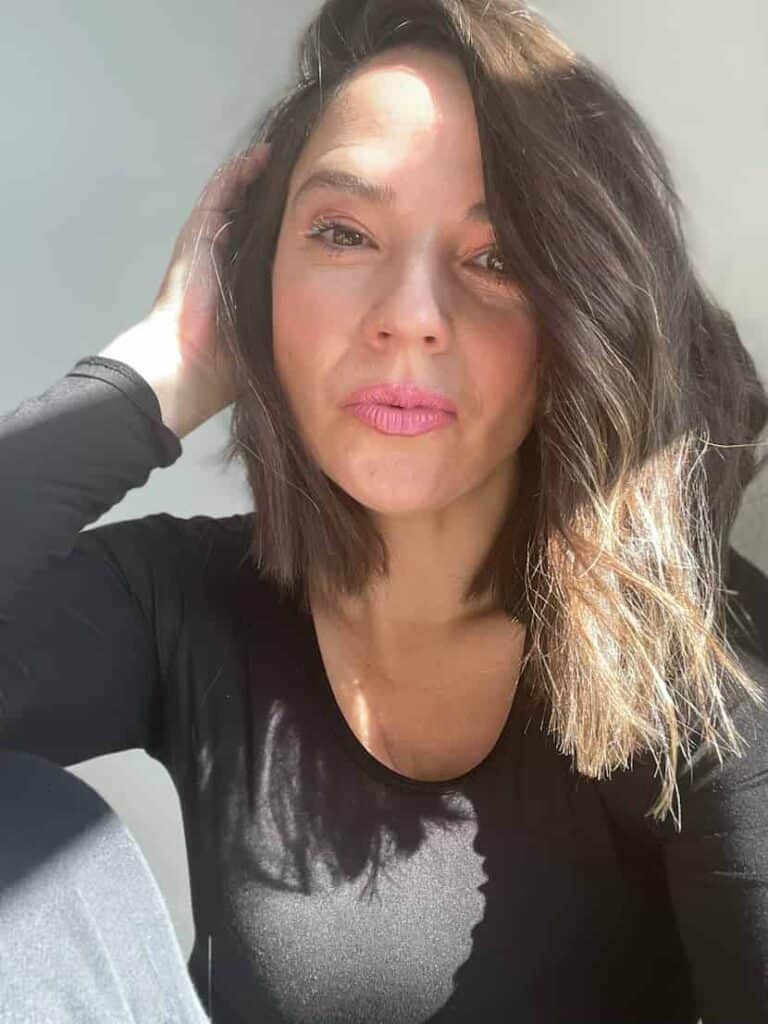 Genetics: Your scalp health can be influenced by your genetics. Some people are more predisposed to conditions like dandruff or psoriasis.


Diet: A balanced diet that includes nutrients like vitamins A, C, and E, as well as zinc and omega-3 fatty acids, can help maintain a healthy scalp.


Stress: High levels of stress can lead to a dry, flaky scalp or even hair loss.


Environmental factors: Exposure to harsh chemicals, pollution, and the sun's UV rays can damage the scalp and lead to hair breakage and hair loss.


Age: As we age, the scalp produces less oil, which can lead to a dry and itchy scalp.

It's important to keep these factors in mind when thinking about your scalp health. By taking steps to address each of these factors, you can promote a healthy scalp and in turn, healthier hair.
Here are some questions we will answer in this blog post about your aging scalp and share more about the ultimate guide to a healthy scalp care routine.

Important Scalp Care Questions We Answer:
Q: What is an aging scalp?
Q: What causes an aging scalp?
Q: What is a good dandruff treatment?
Q: What kind of products should I use on an aging scalp?
Q: Is it necessary to change my haircare routine as I age?
Q: Are there any natural remedies for an aging scalp?
Best Scalp Hacks And Treatments
Taking care of your scalp is just as important as taking care of the rest of your hair. After all, a healthy scalp equals healthy hair.
If you're looking to boost the health and thickness of your hair while also preventing the signs of aging, consider adding these scalp treatments to your hair care routine.
Scalp Massagers
I seriously massage my scalp all the time now. Scalp massagers are a great tool for promoting healthy hair growth and blood circulation in the scalp. This is a great tool to use to help you get rid of dandruff.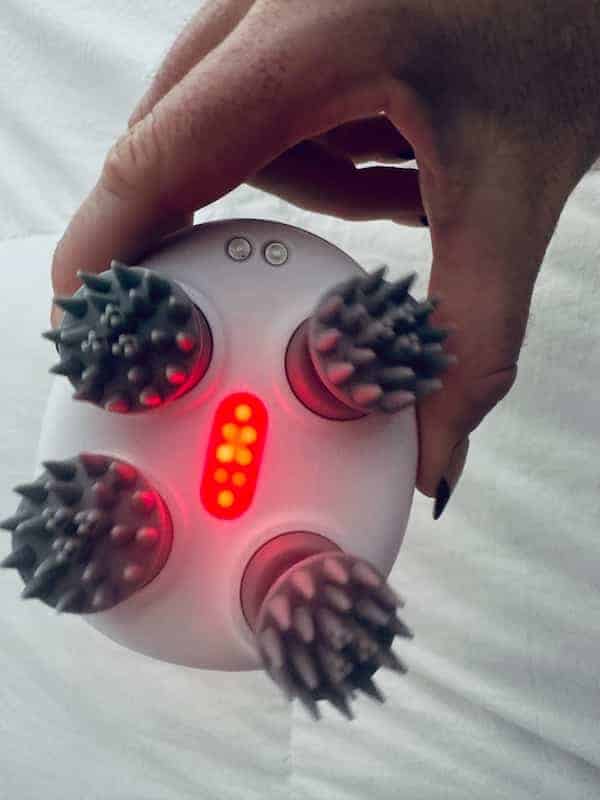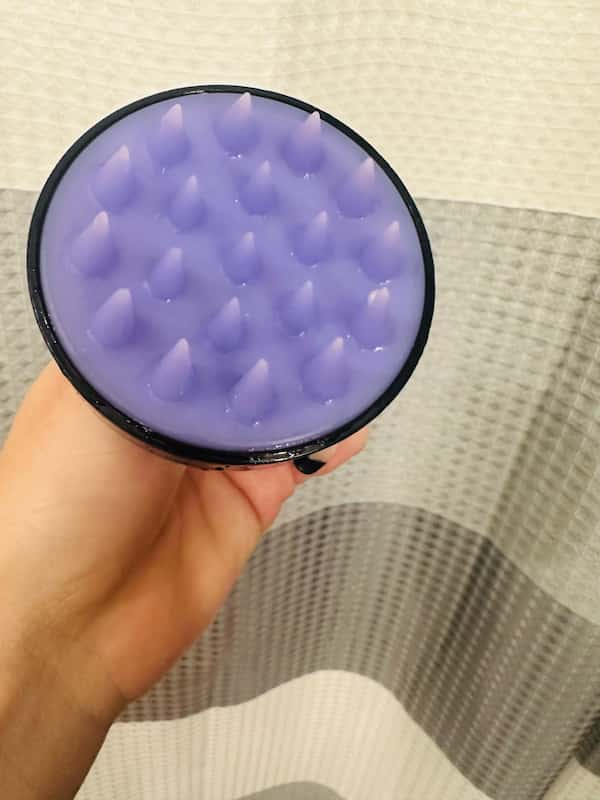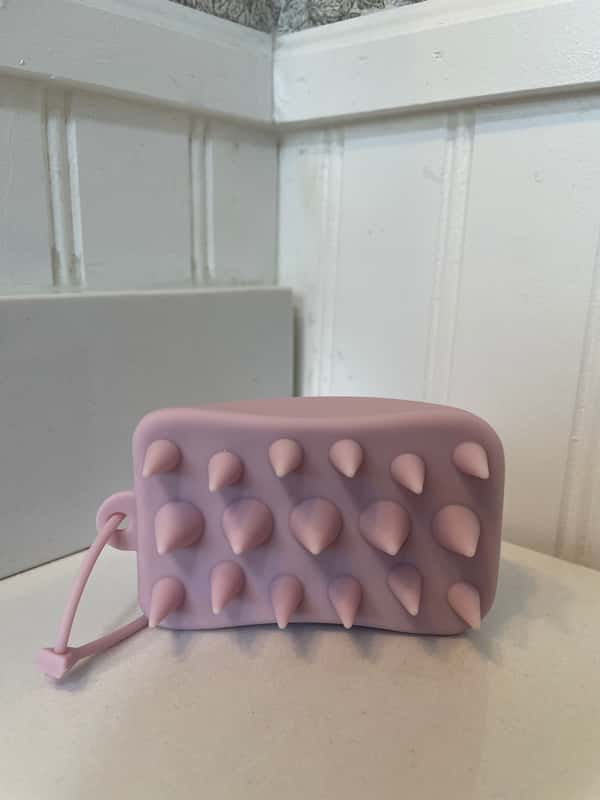 By using a scalp massager, you can improve the absorption of hair care products and remove any build-up that may be clogging your hair follicles. Simply use the massager in circular motions on your scalp for a few minutes before washing your hair.
I leveled up because I enjoyed and saw the immediate benefits of a scalp massager so I now have an electric one!
I keep it charged on my nightstand and when I am in bed after my skincare routine is all done, as I am sitting up watching a little TV or just relaxing, I let this beauty do its magic. OMG, it's so relaxing and it also had red light therapy incorporated which is another huge benefit.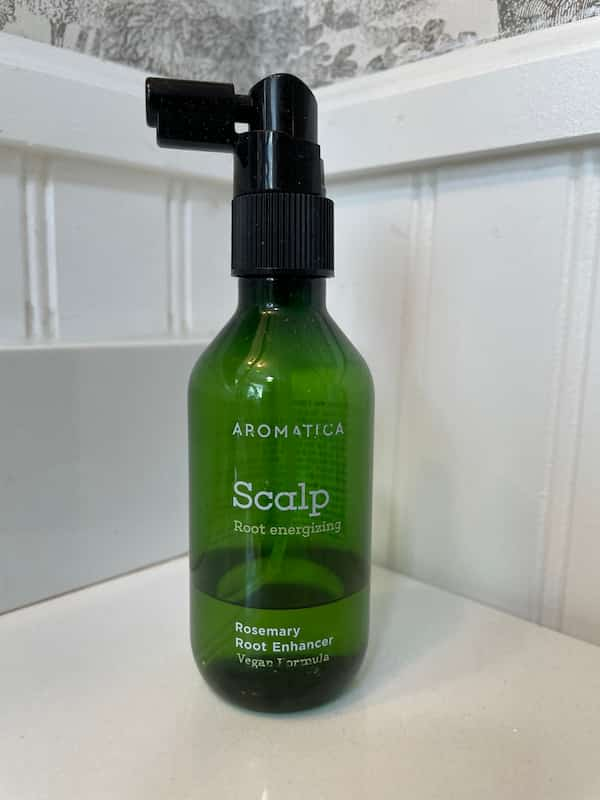 Hair Serums
You need to have a few hair serums on your shelf. Hair serums are a great way to nourish your hair from the roots to the tips. Look for serums that contain ingredients like biotin, keratin, and vitamin E, which can help promote hair growth and prevent breakage. To use, apply a small amount of serum onto your scalp and massage it using your fingertips.
Hair Shampoo For Dry and Oily Salps
As you age, your scalp undergoes various changes that can lead to hair damage and loss.
By using the right shampoo for your scalp type, you can nourish your hair and scalp, promoting hair growth and preventing further damage.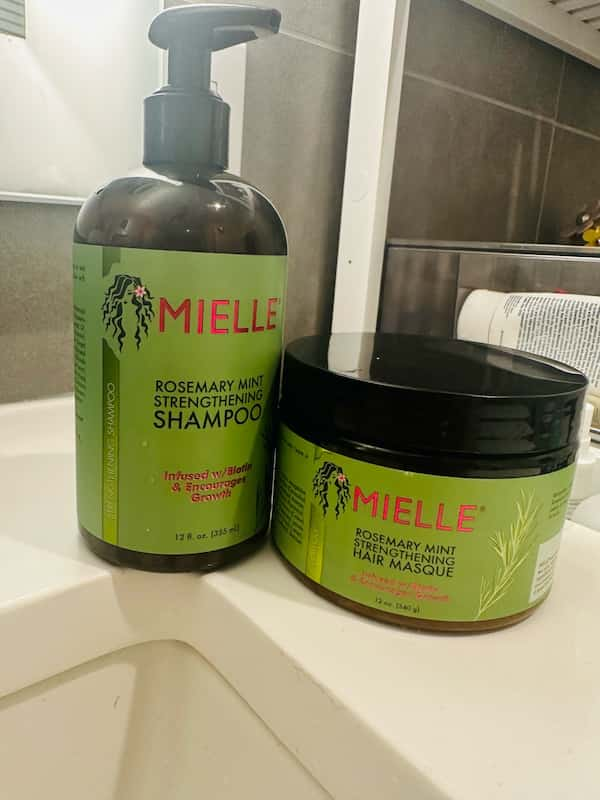 Using the best shampoos for an aging scalp can help prevent dandruff, itchiness, and other scalp conditions, which can be common as you grow older.
So, if you want to keep your hair healthy and strong even as you age, it's essential to read the labels and look at how you are washing your hair and with what.
Essential Oils
Essential oils are a natural way to promote hair growth and prevent hair loss. Some of the best essential oils for scalp health include peppermint, lavender, and rosemary oil. This is the brand and product that I use and I absolutely love it!
Mix a few drops of your chosen oil with a carrier oil like coconut or jojoba oil and massage it into your scalp before washing your hair.
Hair Masks
Hair masks are a great way to deep condition your hair and improve the overall health of your scalp. Look for masks that contain ingredients like argan oil, avocado oil, and honey, which can help hydrate and nourish your scalp.
Apply the mask onto your scalp and hair, leave it on for the recommended time, then rinse it off with warm water.
I love this brand called Arvazallia hydrating argan oil hair mask and deep conditioner. I am super picky with smells and this smells divine. It also has over 50,000 Amazon reviews with 4.5 stars out of 5. So it's popular for a reason.
Incorporating these scalp treatments into your hair care routine can help promote thicker, healthier hair while also preventing the signs of aging.
Try adding one or more of these treatments to your routine and see the difference it can make for your hair and scalp health.
Benefits of At-Home Scalp Treatments For Dandruff or Oily Hair
Our hair plays a vital role in our overall appearance, and as we age, our hair can become thinner and weaker. However, with proper care and attention, we can maintain healthy and thicker hair. Have you tried a dandruff treatment before?
One of the most effective ways to promote hair growth and reduce hair loss is through scalp treatments. These can be done right in the comfort of your own home.
As we age, our hair can become thinner, weaker, and more brittle. Scalp treatments are an excellent way to promote healthy aging and maintain the overall health of our hair.
These treatments help to nourish and hydrate the scalp, reducing dryness and preventing hair breakage.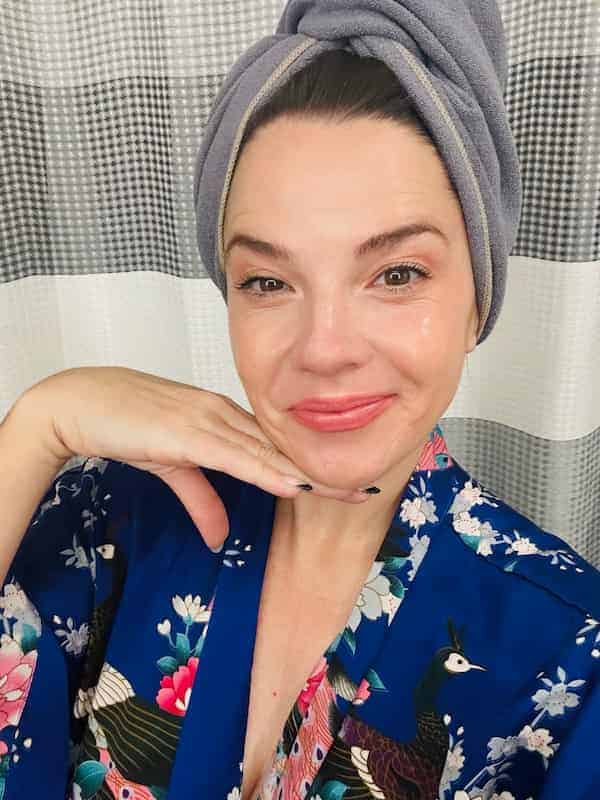 Regular scalp treatments can also protect the hair from damage caused by environmental factors like pollution and sun exposure. By promoting healthy aging, scalp treatments help us maintain beautiful, healthy hair for longer.
And if you have dandruff, then you should be doing scalp treatments as often as possible.
If you're looking to achieve thicker, healthier hair and promote healthy aging, scalp treatments really are an excellent place to start. Incorporating these treatments into your hair care routine can work wonders for your hair and scalp's overall health and appearance.
Scalp treatments are essential for healthy aging and can work wonders to maintain the overall health of our hair.
If you want to really go the extra mile, head to your local salon and ask for a scalp massage treatment.
Improving Hair Growth
All scalp treatments are a fantastic way to improve hair growth. A lack of proper blood circulation to the scalp can lead to hair loss and thinning.
Scalp treatments work by increasing blood flow to the scalp, which stimulates hair growth.
Scalp massages and hot oil treatments are some of the most effective ways to improve blood circulation to the scalp. These treatments help to relax the scalp muscles and stimulate the hair follicles, promoting hair growth.
Pro Tips For Healthy Hair
Instead of rubber bands wear silk scrunchies to protect your hair from breakage and damage. If you do an oil treatment wrap your hair up in a silk protective wrap and sleep on that at night. Sleep on a silk pillowcase too!
Reducing Hair Loss
Hair loss is a common problem that many people face as they age. Scalp treatments can help reduce hair loss and maintain a healthy scalp. Scalp treatments like hair masks, serums, and tonics can help strengthen hair follicles, prevent hair breakage, and protect the scalp from damage.
These treatments are rich in essential vitamins and nutrients that nourish the scalp and hair, reducing hair loss and promoting thicker, healthier hair.
Aging Scalp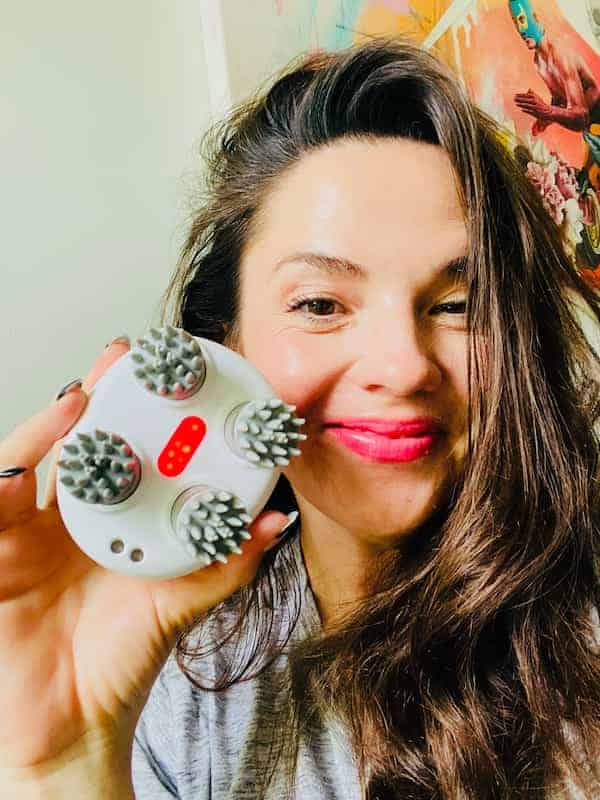 Taking care of your scalp is vital for achieving thicker, healthier hair and promoting healthy aging.
There are various treatments and tools available, from scalp massages to exfoliators and serums, that can help improve scalp health and hair growth.
It is essential to choose products that are suitable for your hair type and to establish a consistent scalp care routine.
Regularly using the best scalp treatments and tools can lead to a healthier scalp, stronger hair, and a more youthful appearance.
So, invest in your scalp health today and reap the benefits of luscious locks tomorrow.
Keep reading our ultimate guide to a healthy scalp care routine, next, we are going to talk about some good products to have.
helloSPICA Must-Have Scalp Care Products for Women Over 40
Scalp Shampoo: It's important to prioritize products that promote scalp health and address common concerns associated with aging.
(This is a brand I have been consistently using and loving, also a huge fan of their rosemary hair oil.)
Aquis Hair Towel Dryer: The Aquis Hair Towel Dryer has become an essential tool in my hair care routine. Its innovative fabric is designed to quickly absorb excess water from the hair, reducing drying time and minimizing the potential damage caused by heat styling.

This towel is gentle on the hair, reducing friction and frizz while promoting smoother, healthier strands. Incorporating the Aquis Hair Towel Dryer into my routine has not only saved me time but has also improved the overall health and appearance of my hair.

Cymbiotika Water Filter: Living in Washington DC, I faced the challenge of dealing with water that wasn't ideal for my scalp health.
Determined to find a solution, I stumbled upon a Tik Toker with the most beautiful hair I had ever seen, who recommended this water filter.

Intrigued, I decided to give it a try. This water filter has been a game-changer for my aging scalp, effectively removing impurities and harmful chemicals from the water supply, and providing me with cleaner and healthier water for washing my hair.

Not only has it made a noticeable difference in the health of my aging scalp, but it has also contributed to the overall vitality and luster of my hair.
The Cymbiotika water filter has become an essential addition to my hair care routine, ensuring that my scalp and hair receive the best possible water quality for optimal health and beauty.
Good Scalp Care Is Key For Your Aging Scalp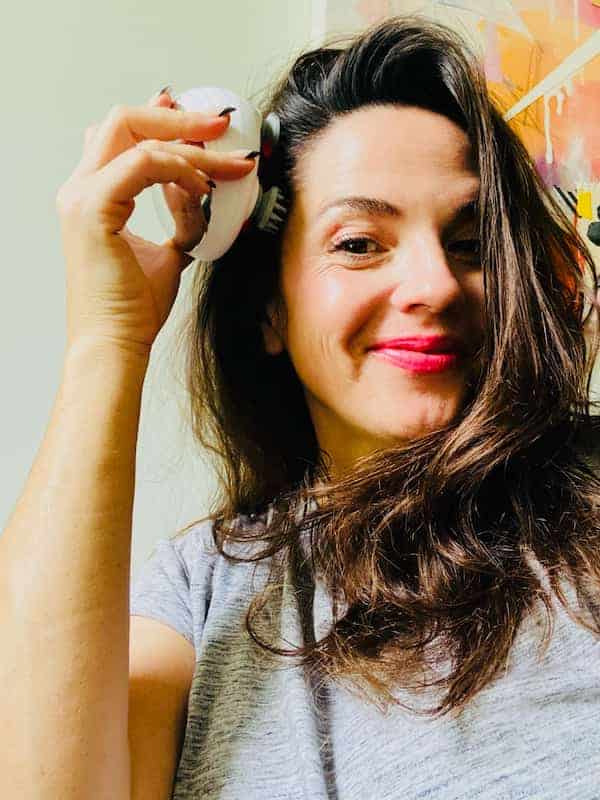 To sum up, there's no need to panic about an aging scalp. With a few simple changes to your hair care routine, you can keep your scalp and hair healthy and happy.
Remember to stay hydrated, avoid harsh chemicals, and invest in quality products that nourish and protect your hair and aging scalp.
Prioritizing scalp care is essential for women over 40 to maintain healthy and vibrant hair.
Incorporate these scalp care practices and products into your routine to nurture your scalp and you can be well on the road to defy the signs of aging at least for your scalp!
Let us know how your scalp routine is going below and drop us a note in the comments below!