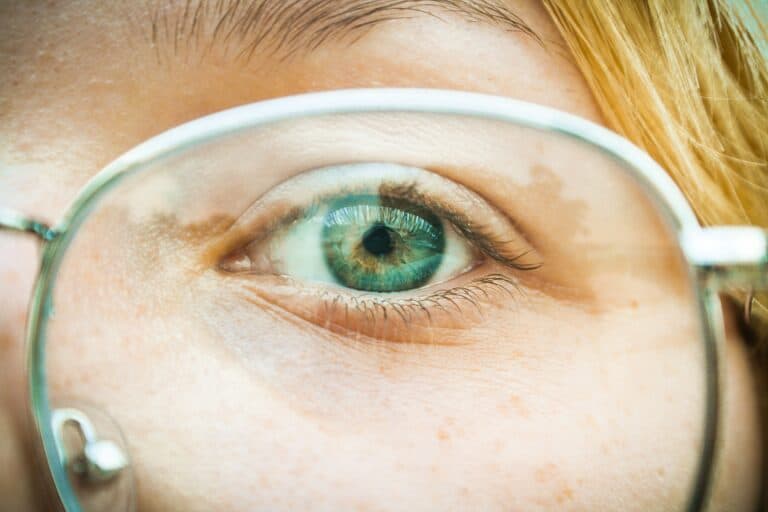 5 Trendy Readers for 2023
5 Cool Frames For All Face Shapes
We have curated 5 trendy readers for 2023! Do you find yourself squinting to read the fine print? If you are over or around the age of 40, it becomes harder to focus on small text and it may start requiring you to adjust the distance between you and those reading materials.
If reading has started to be a bit of an annoyance, it might be time to consider purchasing your first pair of reading glasses! Keep on reading.
This article will tell you everything about reading glasses that you need to know to find a pair of readers that make you look good!
But when the time comes to purchase them, please do not forget that they can serve double duty as a reading aid and a fashionable accessory. Reading glasses can be just as a fashion essential as sunglasses and you don't need to think twice about wearing them in style!
1 — Schedule an Eye Exam
Call your local eye doctor and make an appointment for an eye exam. Unlike an annual physical check-up with your primary care doctor, an annual comprehensive eye exam can be often neglected, especially if you don't already wear glasses or contact lenses.
It's important and beneficial to receive an eye exam to identify your eye health and to make sure you are ready to buy the right ones based on your needs for your first pair of readers.
2 — Over-the-Counter vs. Prescription Reading Glasses?
During your appointment with an eye doctor, ask your doctor whether he/she recommends you buy a pair of prescription readers or a pair of OTC reading glasses since it's unnecessary for your vision.
While most people can benefit a great deal from prescription (literally meaning custom-made for you) reading glasses, some of us who are lucky and blessed with adequate eye health (no need for vision correction) might be able to opt for OTC reading glasses.
3 — What does "Over-the-Counter (OTC)" Reading Glasses actually mean?
You can find them pretty much anywhere! Over-the-Counter/Non Prescription glasses can be found at most pharmacies, grocery stores, and online retailers. Although these readers do not require a prescription from your eye doctor, it doesn't mean that one fits it all.
They have a specific magnification in each lens, just like regular prescription glasses. Therefore, even if you are a good candidate for OCT reading glasses, it's a good idea to get an eye exam and seek professional advice on the strength/power of lenses you need.
Pro's
Can be found at local pharmacies and grocery stores
Can be purchased without an eye exam or prescription
Inexpensive compared to prescription readers
Great inexpensive options as a spare pair for your emergency bag
Perfect for people who lose or break glasses easily
Con's
Not suitable for people who have different vision strength in each eye since Strength/Powers in OTC readers are the same in each lens/eye. If your vision condition isn't identical in both eyes, OTC readers are not for you.

Do not work  for individuals who are nearsighted because those people typically require a "negative" lens while OTC readers only come in "positive" lenses.

Not suitable for people who have astigmatism since non-prescription readers do not correct the condition. Uncorrected astigmatism can cause headaches, tired eyes, and the reason for worsening your vision.

OTC readers are basically two magnifying lenses reinforced in an eyeglass frame. It's simple, but there is no customization available to fit your specification, including size, Pupillary distance (PD), and comfort level.
4 — What Does "Prescription" Reading Glasses Actually Mean?
Unlike OTC readers, prescription reading glasses are made just for you to fit your exact specifications provided by your eye doctor. More precisely,  your readers are custom-made to match the needs of each eye with lenses made in higher quality and sharper clarity.
Also, the frames of your choice can be adjusted to compliment your face, and the pupillary distance is placed in the ideal position just for you for comfortable reading.
Pro's
Permits for custom-made lenses for special vision needs
Can be a vision insurance-eligible purchase
Can be FSA or HSA-eligible expense
Offer wide varieties of frames in sizes, colors, and materials, including designer & brand name optical frames
Offer special lens coating, such as "Blue Light Coating", "Non-Glare Coating", and etc.
Perfect for people who don't mind spending more for higher quality readers with customization of your choosing
Con's
Higher price points compared to OTC readers and that is all!
helloSPICA's 5 Top Picks: 5 Trendy Readers for 2023
As mentioned previously, OTC readers cost more than prescription readers, but helloSPICA still recommends our readers opt for prescription reading glasses if possible.
Since there are more online retailers that sell prescription glasses/readers (lense + frames) than ever before, the prices of products have been more competitive and affordable in recent years.
That means that you can purchase your first "good looking" prescription reading glasses for relatively inexpensive prices if you choose cost-effective online retailers that provide high quality, yet reasonable price points. Here are hello SPICA's picks; 5 best stores for 5 "good looking" readers!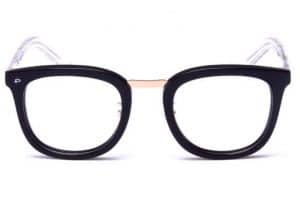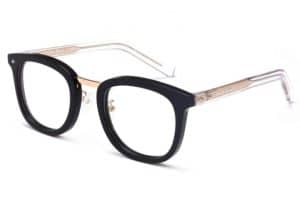 Since it launched in June 2017, Prive Revaux has been revolutionizing the eyewear industry. These J Lo-approved unisex glasses; The Alchemist in Caviar Black/Clear would look amazing on anyone who is looking for a trendy black frame with a gold accent, especially with an oval or a triangle-shaped face. According to Prive Revaux, "These round-lens eyeglasses have an extra-lightweight construction for comfortable all-day use. "
The temples and frames are crafted with corrosion-resistant nickel silver and cellulose acetate. The lenses are made with triacetate cellulose to provide the best optical clarity. The lenses also have a scratch-resistant and anti-glare coating, and they offer 100% UV protection" From $29.95~ Keep reading below for the second pick of 5 Trendy Readers for 2023.
2—Steevie In Color 19 - Tortoise Front and Temples by eyebobs
Since 2001, eyebobs has been leading the eyewear rebellion with daring, distinctive frames that are anything but average. According to eyebobs, "We believe in no-apologies style, no B.S. pricing, and the radical notion that shopping for glasses should be fun".
Just like what they preach and its name; Wait what? These glasses are fun and attractive for a thousand double-takes, especially for those with narrow to medium face width. This unisex semi-rimless reader is like nothing you've seen before! From $89.00 ~ Keep reading for our third pick of 5 Trendy Readers for 2023.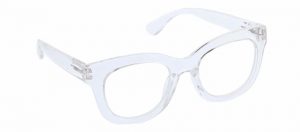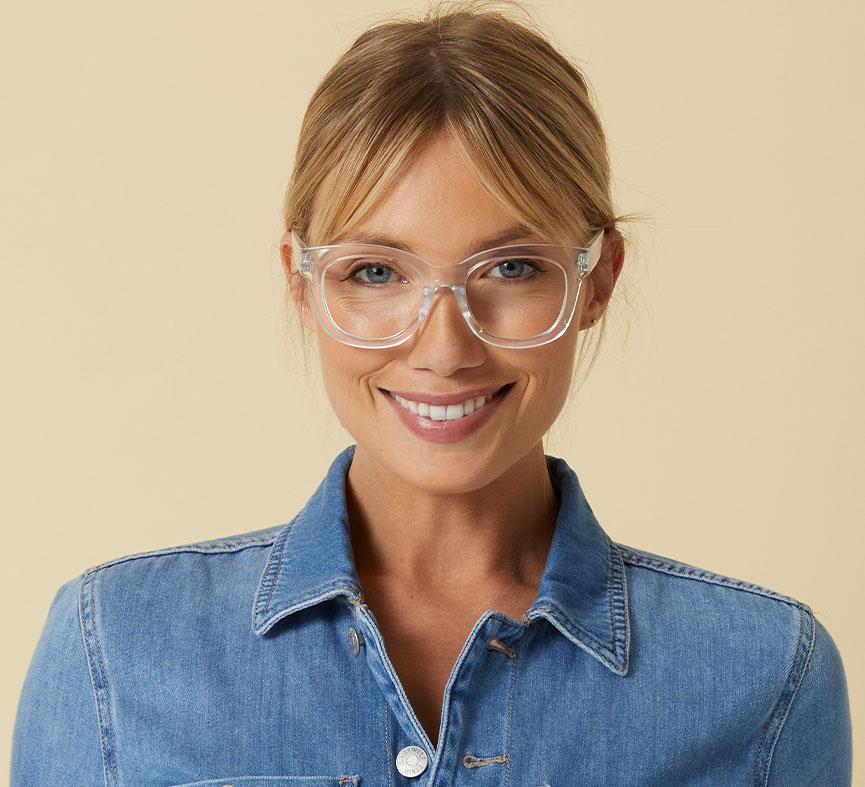 Peepers is a 4th generation family-run company based in Indiana. As of 2020, Peepers has been named One of the "best places to work in Indiana" for the fourth consecutive year. Their most popular frame, featured as one of Oprah's Favorite Things, has been upgraded to a blue light collection by popular demand.
This oversized look compliments a beautiful round shape and makes a statement while spring hinges provide additional comfort. Their "Focus lenses" are guaranteed to filter 40% or more of the harmful blue light without a distracting yellow tint.  From $25.00~ Keep reading for our fourth pick of 5 Trendy Readers for 2023.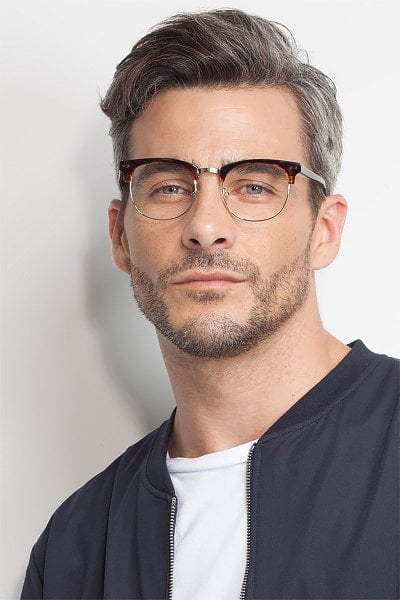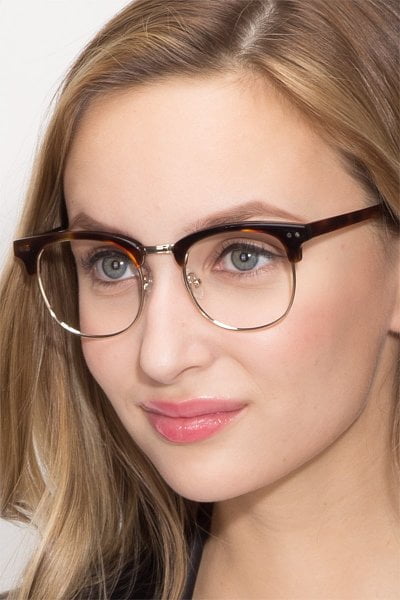 Founded in 2005, EyeBuyDirect is an online retailer of prescription glasses, based in Texas, sells its products worldwide. This Borderline frame, a classic tortoise acetate, and minimalist metal make a great combination in the trendy browline frame!
This fantastic unisex frame would look amazing on everyone with a medium to wider face width.  From $55~ keep reading for the last and final pick for our last pick of 5 Trendy Readers for 2023.
5—MABUHAY in Color Polished Gold Green by Caddis
Caddis specializes in "eye appliances" for folks over 40. Caddis has been an anti-anti-aging (we like to use the word pro-aging.) brand since 2017 and makes glasses for people who own their age. Caddis offers so many pairs of cool-looking readers that you've never seen before.
They even have sunglass readers to upgrade your outdoor adventures! This unisex aviator frame; MABUHAY adds just the right amount of color and flair while maintaining the functionality of quality readers. "Get older. Own it. See stuff" -Caddis. We hope you loved our picks for 5 Trendy Readers for 2023!