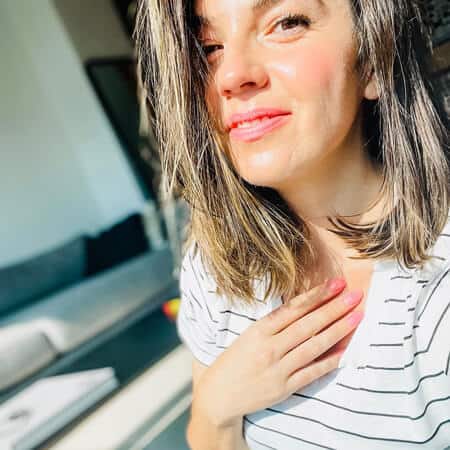 GET TO KNOW
Vanessa
helloSPICA CO-FOUNDER AND EDITOR
Vanessa is a self-care advocate. An expert on anything related to beauty and wellness. She is extra obsessed with clean beauty, healthy eating, and is always spa-ready. A former collegiate tennis player, she considers herself equal parts sporty and girly.

She must have her nails polished at all times and 'Must Love Dogs' is her motto. On a spiritual journey, practicing yoga and meditating daily.
Personal Style
Loves a well-structured monochromatic dress but also the more color, and floral, the better. Kitten heels, cashmere sweaters, silk robes, and sneakers are her personal favorites.
Personal

Married for 20+ years, a globe trotter with great travel tips, has a major sweet tooth, and loves to share healthy dessert recipes. Can make dumplings from scratch and will pickle anything! A Hello Kitty collector, interested in pop art and astrology. Loves a good documentary. Always up for a glass of wine with good company.
Personal Goals

Take acting classes, travel the world, and finish reading Don Quixote
Age-related topics she is most interested in

Skincare and wellness, clean eating and superfoods, travel, style, brainpower and memory, budgeting tips, and elderly care.
Favorite quote about aging

"I am not young enough to know everything"
Oscar Wilde
Most used apps

Insight Timer, Astrology Zone, iTunes Podcasts, Trivia Crack
Organizations /Non-Profits she is passionate about

Alzheimer's Association (a disease that runs in her family, this is a close cause to Vanessa) The National Council on Aging (NCOA), and the American Society for the Prevention of Cruelty to Animals (ASPCA).