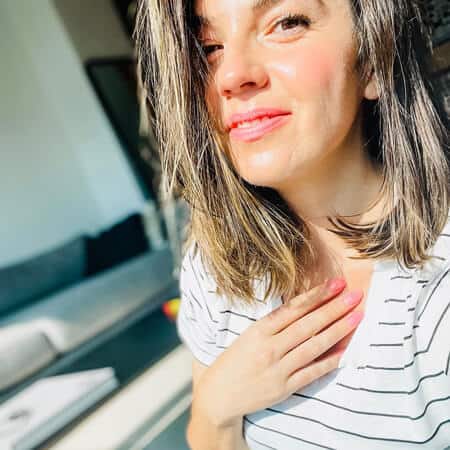 GET TO KNOW
Vanessa
Meet Vanessa, Co-Founder and Editor
Vanessa is a self-care advocate and a beauty/wellness expert living on the east coast. She has a special interest in clean beauty, healthy eating, and all things spa-related. Vanessa firmly believes that a good manicure is key and lives by the motto "Aging brightly, living beautifully."

She practices yoga, and meditation daily and is on a spiritual journey. As a former Division1 tennis player, she's deeply passionate about the sport, competitive by nature, and loves the stylish tennis outfits.
Personal Life
Meet Vanessa, a world traveler and adventurer who's been happily married to her husband who hails from Buenos Aires, Argentina for over 20 years. Having spent eight years living in Buenos Aires, Vanessa is a big fan of fútbol, loves to sip on maté, and has a serious sweet tooth for dulce de leche. She enjoys sharing healthy dessert recipes, collecting crystals, and pickling just about anything.

Vanessa loves Hello Kitty and collecting Hello Kitty items, she also has a passion for astrology, with her Scorpio Sun, Taurus Rising, and Virgo Moon being her big three in her natal chart. Her close friends refer to her as "V" and can often find her spending quality time with her plant babies, particularly her prized prickly pear cactus Dolly— named after the legendary Dolly Parton.

As a proud plant mom, Vanessa firmly believes that everyone has favorites, and for her, Dolly undoubtedly takes the top spot.

She also enjoys playing tennis, watching documentaries, and sharing a glass of wine with good company.
Personal Style

Vanessa's personal style is a blend of well-structured monochromatic dresses and colorful florals, combined with her love of black leather (cruelty-free), paired with kitten heels, cashmere sweaters, silk robes, and sneakers.
Personal Goals

Vanessa's personal goals include taking acting classes, traveling the world, and finishing reading Don Quixote.
Age-related topics she is most interested in

Her passion for aging topics spans a range of areas, including skincare and wellness, healthy eating, biohacking, brainpower and memory.
Favorite quote about aging

Her favorite quote about aging is from Oscar Wilde: "I am not young enough to know everything."
Most used apps

Vanessa uses apps like Insight Timer, Astrology Zone, iTunes Podcasts, The Pattern, and Trivia Crack.
Organizations /Non-Profits she is passionate about

She supports several organizations/non-profits like the Alzheimer's Association (a disease that runs in her family) and the American Society for the Prevention of Cruelty to Animals (ASPCA).